Not one to be perturbed easily I thought it might be fun to capture some images before I lose a boob or two. I reached out to a friend and colleague and approached her with the idea of working with me on this next phase to document the stages in photos. She fortunately was up for the idea and little did I know at the time but this documentation has and still is very much a solid part of my understanding, healing and recovery. Anyone who knows me will know that I love an audience. So to have an opportunity to capture some less staged, less than perfect, less than traditionally beautiful pictures to raise awareness of young breast cancer, well I'll take that and run with it thank you very much. On to Amy. She is one of the kindest souls I have yet to encounter. We have known eachother for some time. She was a friend. I contacted Amy not the other way around. But a definite path was made by Cancer for her and I to walk, skip, run and laugh along the way. And no amount of gratitude with come close to how thankful and blessed that I feel to have had the opportunity to capture my truth with her. We also scared the bejeezes out of a postman who looked up and saw me posing provocatively nearly naked sitting on the windowsill. A defining moment in our friendship. Whoops.
I decided that if mastectomies were the way forward I would indeed honour the loss like I would with anything in life, with a party!!! So my nearest and dearest girls came and we ate copious amounts of dahl, vegan chilli and biscuits, laughed and cried. It was a chance for me to help them to understand that I was OK. I was going to be OK. And this was the start not the end. It was also to save me having the same 15 conversations over again. In honesty it was as much for me as it was my children, Jack (dressed in a suit for the occasion!!) spent the time drawing boobs and face painting everyone whilst Molly took it all in quietly and barely left my side. I wanted them to understand that although things were changing, it was not bad. It was OK to be sad, but it's also OK to celebrate. And that friends are really important. So that afternoon we celebrated friendship and the journey of my humble mountains. I did bear in mind that maybe my kids would share memories of this little soiree casually at school so I pre warned their teachers that there was indeed a 'booby party' and Jack had not been watching inappropriate television...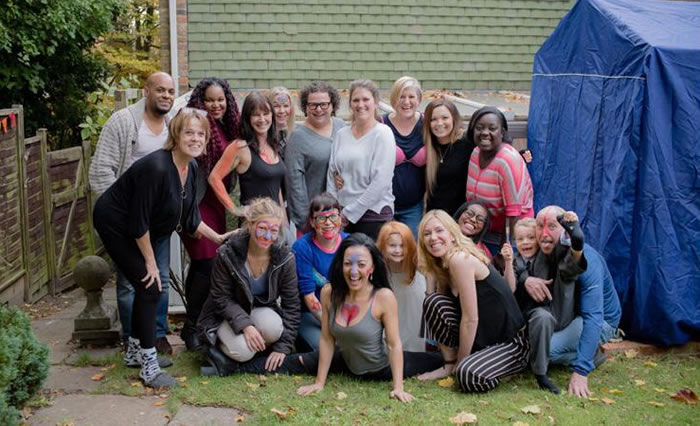 I had another photoshoot after the node biopsies with my ugly armpit scar. This one I wanted to be painted (??) I think people humoured me…paint a phoenix on your boob? Run around like a bird? If you like Sam….So we spent the afternoon with me in a pair of pants chasing bit of material in a studio with industrial fans painted from head to hip. Why not? I may or may not have forgotten to remove said body paint at the school gates at pick up time… I do like an audience.